The FM203-10 Duel Soldering, Desoldering and Rework Station is a compact, duel port soldering station that enables soldering, desoldering, and SMD rework all with a single unit. The FM-203 twin ports allow for simultaneous use of a variety of soldering, desoldering and rework tools. The FM-203 comes supplied with a soldering iron (Hakko FM2027) but is also compatible with the below tools:
FM2032 Micro-Soldering Iron for small or intricate components,
FM2030 Heavy Duty Soldering Iron for larger components
FM2026 and FM2031 Nitrogen Soldering Irons (requires N2 Source) for improved work flow.
FM2022 and FM-2023 SMD Hot Tweezer Rework tools
FM2024 Desoldering gun (requires compressed air source and desolder control box)
Please see below examples of tool combinations in the two channels D and S. Note: some combinations are not possible due to the power consumption of the hand piece.
Simultaneous use
Channel D
Channel S
Yes

No
Either one of handpieces operates

HAKKO FM2022
Rework tool
(direct heat-type)

No
Either one of handpieces operates

HAKKO

FM2023

Rework tool

(direct heat-type)

No
Either one of handpieces operates

HAKKO

FM2030

Heavy duty

soldering iron

No
Either one of handpieces operates

HAKKO

FM-2031

N

2

heavy duty

soldering iron

Yes

HAKKO

FM2024

(*)

Desoldering tool

Yes

HAKKO FM2026(*2)
N2 soldering iron

Yes

HAKKO

FM2032

Micro soldering iron
* For HAKKO FM2024, each handpiece needs a desoldering control box and compressor.
** For HAKKO FM2026, each handpiece needs an N2 generator (HAKKO FX780), flowmeter (HAKKO FX791), compressor, regulator, etc. For further details, refer to the combination examples.
Poweful thermal recovery performance
See how much its thermal recovery is improved by using a composite tip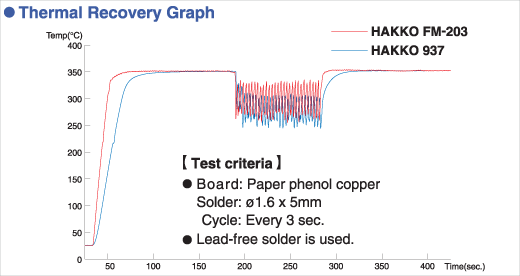 Power save function
Sleep function
:
While the handpiece is being placed on the iron holder (HAKKO FH-200), the sleep function is activated and decreases the temperature of tip on the holder up to approximately 200°C , preventing the tip from being oxidized. In addition, this function can relieve the load applied to the tip due to the high-temperature settings required for lead-free soldering.
Auto power shut-off function
:
By connecting the iron holder (HAKKO FH-200) and station with the connecting cable, the auto power shut-off function is activated in the same manner as the sleep function.

Combined use with an optional handpiece (HAKKO FM2026, etc.) enables use of the N2system
Buzzer ON/OFF setting is available
Buzzer ON/OFF setting control the buzzer sound for errors when the target temperature is achieved.