FM204-10 Self Contained Desoldering and Soldering Station Features
Even easier-to-use FM204 Self Contained Desoldering and Soldering Station Series Desoldering Tool
The HAKKO FM204 Self Contained Desoldering and Soldering Station is a compact, self-contained desoldering station with a built in vacuum pump for worktop desoldering without the requirement of a compressed air source.
It comes supplied with an HAKKO FM2024 desoldering tool which can be used in gun or pencil format. The N3 Desoldering Nozzles (purchased separately) are available in a wide range of sizes for a variety of desoldering requirements.
The integrated nozzle within the HAKKO FM2024 contains both heating element and sensor provides higher thermal recovery than conventional tips.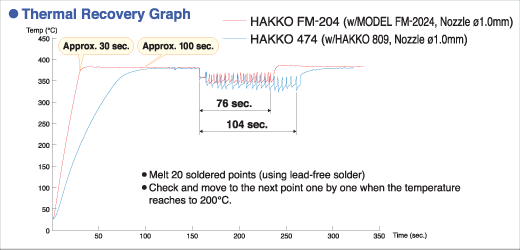 Soldering work is also possible by replacing the handpiece with an
HAKKO FM2027
or
HAKKO FM2026
(Purchased Separately)
Connectible handpieces:
– Desoldering handpiece (HAKKO FM2024)
– Soldering iron (HAKKO FM2027)
– N2 soldering iron (HAKKO FM2026)
Selectable grip
Two-way use of gun type and straight type is available.
| | |
| --- | --- |
| | |
| Gun configuration | Straight configuration |
Easy maintenance
Filter pipe replacement:
– Disposable paper filter pipe
– Easy to dispose of paper and solder separately
Nozzle replacement:
– Safe to replace with nozzle remover
– Replaceable even before the end of nozzle has cooled down
| | | |
| --- | --- | --- |
| | | |
| (1) Detach the nozzle remover | (2) Firmly attach the nozzle remover to the nozzle cartridge as shown in the picture. | (3) Pull the nozzle remover with the nozzle cartridge in one stroke. |
Power save function
Sleep function:
When the handpiece is placed on the Iron Holder (FH200-01 Iron Holder/FH200-02 Iron Holder), the sleep function operates and decreases the unused tip temperature up to approximately 200°C , preventing the tip from being oxidized.
In addition, this function can relieve the loads applied to the tip due to the high-temperature settings required for lead-free soldering
* The connecting cable enables the iron holder and temperature controller to be activated.
Auto power shut-off function:
By connecting the iron holder (HAKKO FH200) to the connecting cable, the auto power shut-off function is activated in the same manner as the sleep function.
– Selectable buzzer and alert ON/OFF setting Buzzer and alert sound generation upon error and when reaching the setting temperature can be selected. ON/OFF-settable buzzer sound