Note: Tips not included. Requires Nitrogen Source to function.
The N2 gas and preheating effect have achieved significant improvement in soldering work!
N2 soldering iron providing 150W high output
Preheating effect
The hot N2 gas is effective for preheating.
Preventing oxidation
Powerful thermal recovery
Can be used in combination with your existing high power soldering station, HAKKO FX-838.
N2 System
Can be used in combination with the HAKKO FX-780/FX-781 and HAKKO FX-791 to create an N2 System.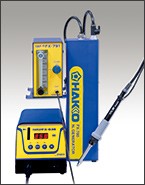 183(W)280(H)205(D)mm
*Reference dimensions
High Power 150W Soldering Iron for use with the FX-838 enjoys the various applications from large to fine components.
Great thermal recovery improves the soldering environment.(Refer to the graph bellow.)

It allows soldering at lower set temperatures.
It can shorten the soldering working time, which minimize concern about the influence of heat on components and tip life.(Refer to the graph bellow.)
It is suitable not only for high-power required working condition such as soldering multilayer boards or shield cases but for microsoldering.

What benefit can be taken by Low set temperature and Cut in Soldering Working Time

1.

They reduce the risk of the damage of heat-sensitive chips and workpieces.

2.

They diminish the oxidation of soldering tips.
As for soldering with Lead-free solder which has high melting point, setting temperature tends to be set higher than soldering with eutectic solder. It stimulates the oxidation of tips and results in the short tip life.

Why is the tip oxidize easily when using lead-free solder

Operate at Maximum Temperature of 500 Degrees.

It enables soldering power-supply boards easily because high power 150W hand piece can provide great thermal recovery.

High Power but Safety design of low voltage.

This unit has not only high power but also low output voltage (27V) , which is lower than the world safety output voltage of 30V.

Easy to replace tips.

Cartridge style Integrated heater makes thermal conductivity improve.
Available 20 different shape as replacement, some of which are suitable for fine components.

HAKKO FX-838 replacement Tip List (T20 series)

Temperature preset mode saves time and effort.

It allows you to input three frequently-used temperatures in advance and recall them with one push of a button.
It saves the troublesome setting condition, tailored to the tip-shape, component and work.
Combination of optional handpiece allows use of N2 system.
N2 system
| | |
| --- | --- |
| | Great thermal recovery |
| | 150W hand piece provides great thermal recovery, which allows soldering at lower set temperatures to!!minimize concern about the influence of heat on components and tip life. |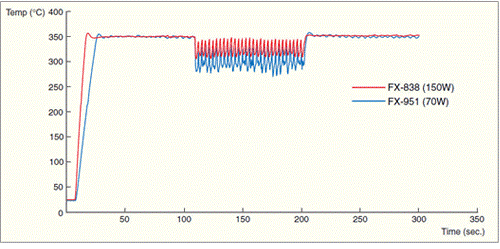 High power saves the working time.
The high power shortens the working time.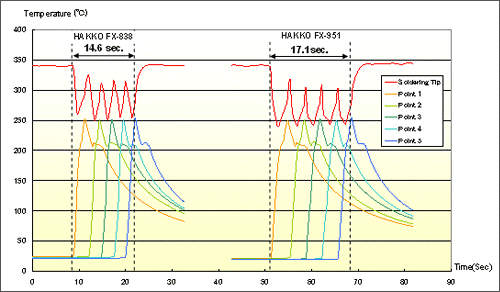 – Test Condition
| | |
| --- | --- |
| Test method | Solder at 5 points and measure the time until temperature of the workipiece reaches 250 degrees. |
| Board used | Bakelite board |
| Component | Terminal |
| Tip shape | Shape-1.6D |
| Temperature setting | 340°C |
| Solder | Lead-free solder (Sn/Ag/Cu) 0.5 |