The FM2029-02 is a miniature hot air rework handpiece with a single nozzle for use with the HAKKO FM-206 Station.
Includes a slim grip and an easy on/off feature for easy use in narrow spaces. Securely and easily remove 10 x 10 (mm) chips.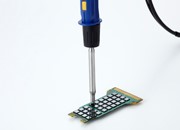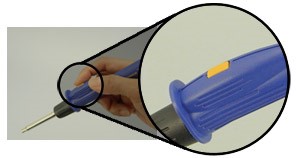 Connectable to a handpiece holder to control the air. Connect HAKKO FM-206 and the handpiece holder with a relay cord to turn off the air automatically when the handpiece is placed in the handpiece holder. Turn on the air again by operating the hand switch. The air does not turn on automatically when the handpiece is picked from the handpiece holder.
The nozzle is a built-in heater composite-type unit
The composite-type nozzle provides excellent thermal recovery and easy one-touch nozzle replacement. Heater replacement, which used to be difficult with the hot air-type, is no longer required
Specifications
Model No.
FM2029-01
FM2029-02
Power consumption
140W(24V)
Temperature range
100 to 550°C
Nozzle to ground resistance
<2µ
Nozzle to ground potential
<2mV
Heating element
Composite heater
Cord length
1.2m
Total length
232mm(with Φ4.0mm nozzle)
Weight
50g(with Φ4.0mm nozzle)
* Total length and weight (w/o cord, tube)