300 W tremendous power enables nearly impossible desoldering on P.W.B with high heat capacity and high heat dissipation property.
Secure desoldering, valve function that suctions with high pressure
Suction starts 0.2 seconds after pulling the trigger for instance and high pressure suction to achieve complete desoldering.
Reduction of solder clogging
Improvement in heating core
Heating ability for backside of heating core is increased to ensure suctioned solder be carried to filter pipe and avoid solder clogging.
Featuring ACF (Anti Clogging Function)
ACF ensures suctioned solder be carried to filter pipe by keeping pump running for a second after releasing trigger.
Improvement in maintainability
Easy heater replacement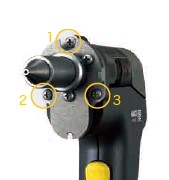 Easy heater replacement by removing 3 screws on the part of heating core.
Tool box for maintenance kit
A tool box (HAKKO C5011 Purchased Separately) contains of maintenance tools such as cleaning pins for nozzle and heating core is provided for standard. The box can be set on the top of the unit for the convenience of use.

Larger filer and more transparency
When desoldering, flux is also suctioned. Flux can cause degradation of suction performance if it enters inside the pump. To avoid the degradation, filter is attached on the front panel. The new filter is larger than the previous type to enhance greater adsorption property. Also the transparent filter cover makes it easy to check filter condition.
Lineup of nozzles for large components
Nozzles applicable to shapes like 2 mm or larger diameter lead or flat termination are lined up.