A1573 Main Filter for the HAKKO FA-430
HEPA filter captures 99.97% of particles greater than 0.3µm
FA-430 provides excellent filtering efficiency, 99.97% of particles greater than 0.3m, by HEPA filter.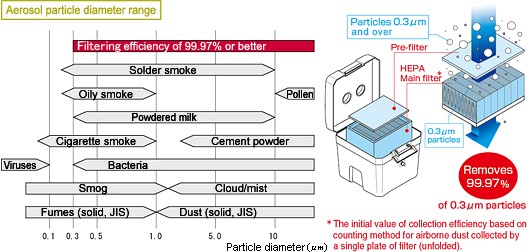 Filter replacement notification function ensures excellent trapping efficiency can be maintained at all times
No matter how sophisticated a fume extractor is, if the filter is not replaced at the right time, it will not be able to give maximum performance. The HAKKO FA-430 detects the number of fan rotation and notifies the operator of the appropriate time to replace the filter, guaranteeing a comfortable working environment.
Pre-filter
When the pre-filter is 80% clogged or has been used for 200 hours, the orange indicator flashes on and off.

Main filter
When the 10th pre-filter needs replacing, the orange and red lamps flash on and off.
Usage/Application
Proper installation of the pre-filter
Proper installation
Install the pre-filter inside the frame of the main filter as shown in image 1.
Be sure to check that there are no gaps at the corners as shown in image 2.

Improper installation
If the pre-filter is not installed properly as shown in images 3 and 4, the main filter will degrade its original performance quickly.