A minimum sub total of
£

250.00
is required, You need an additional
£

250.00
to proceed through to the checkout.
HAKKO, Product catalogue, Shape J, Shop by brand, Soldering iron tips, T30 Series
T30-J Angled Tip for FM2032
SKU: HT30-J

---
T30 Series Micro Angled Tip
For use with the FM2032
R0.2mm/40° x 3mm x 3mm
£36.88 Excl. VAT
In stock
T30 Series Composite Tip
This tip is used with the Hakko FM2032 Micro Soldering Iron.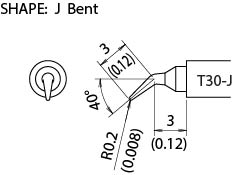 You may also like…
ELECTROLUBE, Freezer sprays, Desoldering equipment, Freezer sprays, Accessories, Freezer sprays, Freezer sprays, Soldering related equipment, Freezer sprays

Freezer – 200ml

ELECTROLUBE, Freezer sprays, Desoldering equipment, Freezer sprays, Accessories, Freezer sprays, Freezer sprays, Soldering related equipment, Freezer sprays

Freezer – 200ml

Electrolube Freezer, FRE, is a powerful non-corrosive refrigerant

This product carries a hazardous product surcharge.
See the Shipping for current charges.

SKU: EFRE200