A minimum sub total of
£

250.00
is required, You need an additional
£

250.00
to proceed through to the checkout.
Desoldering nozzles, HAKKO, Long type, N61 series (FR-301 / FR-410), Product catalogue, Shop by brand
N61-12 Desoldering Nozzle 1.0 mm Extra Long
SKU: HN61-12

---
NOZZLE,1.0mm,EXTRA LONG,FR-4103/4104/301/4101/4102
£17.36 Excl. VAT
In stock
Desoldering nozzle with optimized performance for the FR-301 and FR-410 desoldering tools.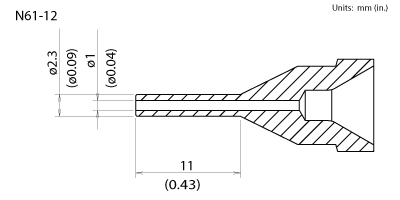 You may also like…
Shop by brand, ELECTROLUBE, Desolder braid, Desoldering equipment, Desolder braid, 2.0mm, Accessories, Desolder braid, Soldering related equipment, Desolder braid

Desolder Braid – 2mm x 3m

Shop by brand, ELECTROLUBE, Desolder braid, Desoldering equipment, Desolder braid, 2.0mm, Accessories, Desolder braid, Soldering related equipment, Desolder braid

Desolder Braid – 2mm x 3m

Electrolube Desolder Braid is a treated copper braid for desoldering electronic joints and electrical connections quickly, safely and efficiently.

SKU: EDB2003