Top Tips for Industrial Soldering, Equipment Maintenance and ESD Protection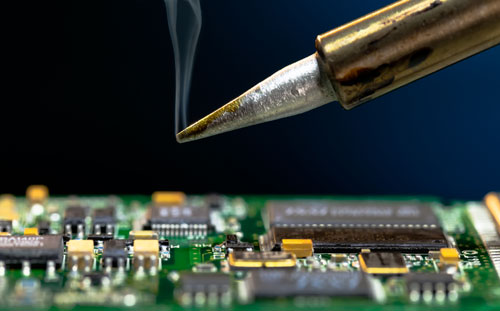 In this edition of Hakko Tech Tips, we will explore some questions we routinely receive regarding best practice for more industrial soldering requirements, such as soldering large metal plates, and explore why ESD protection is so important. For more than 60 years, Hakko has designed a wide range of soldering and de-soldering solutions that make light work of different applications, improve performance, reduce costs and improve work-in-progress. So, let's take a closer look at this month's topics.
Are there specific methods that I should follow for soldering large metal plates?

For larger, more industrial soldering requirements, it goes without saying that a 65W/70W solder station designed for PCB applications is not going to be powerful enough. In these cases, it is likely that a high power system is going to be required, e.g. Hakko's FX838 (150W) and FX801 (300W) Solder Stations. If these are still not sufficient then it may even be necessary to pre-heat the assembly before soldering.

The Hakko FX838 is a high powered soldering iron with high heat capacity. It is best suited for soldering of power-supply boards, heat sinks and RFI/EMI shielding cases, but is also capable of soldering multilayer boards with micro components. When used in conjunction with the FX8302 N2 Soldering Iron it is also compatible with Hakko's N2 System, which allows soldering in a Nitrogen atmosphere to improve wetting and reduce soldering defects. The FX838 can comfortably handle a wide variety of applications, for a wide range of component sizes. It also provides superior thermal recovery to allow soldering at significantly lower set temperatures, which reduce the soldering cycle time and ultimately minimises heat concerns on components and tip life.

The 'super power' 300W FX801 soldering station opens up a whole new world of soldering possibilities. It is suitable for soldering PWBs with the highest heat capacity and heat dissipation properties. The unit provides tremendous heating performance with its super powered 300W composite heater whilst incorporating a soldering iron handle that is the same weight as the equivalent part used on the FX838 150W station, maximising operator comfort and minimising stress for those jobs that require a higher power iron. As with the FX838 it is also compatible with Hakko's Nitrogen Soldering System when used in combination with an N2 soldering iron, in this case the FX8003.


Why is ESD protection important?

Electrostatic discharge (ESD) is the sudden flow of electricity between two electrically charged objects caused by contact, an electrical short or dielectric breakdown. Most modern electronic products are sensitive to Electro-Static Discharge during manufacture. This is not really to protect the passive devices such as resistors and capacitors but rather the intelligent and expensive components such as IC's and BGA's, etc. Usually when the product is packaged as a final assembly it is fully protected from any dangers that ESD poses. ESD Protection is now a multi-million pound industry in its own right as manufacturers strive to protect their individual electronic components during manufacture. They are packaged/transported in ESD materials and, during manufacture, operators have to take ESD precautions to prevent the build-up of static charges and any potential discharge. These precautions usually take the form of a grounding strap (worn on the wrist) or ESD Shoes which need to be used in conjunction with conductive flooring or mats.

ESD has the potential to damage the componentry on a PCB and can cause product defects, as well as equipment failures. The most common example of damage caused by electrostatic discharge is when a charged worker or tool touches a grounded device, which has a low resistance to static electricity. When the tip of a soldering iron comes into direct electrical contact with the pins of a sensitive component, there is a danger of voltage and/or current signal transfer between an ungrounded iron tip and the grounded PCB or the grounded iron tip and an ungrounded PCB.

An ESD incident will ultimately stop when the electrostatic potential between the two materials is balanced. Hakko produce a range of ESD safe products, which include soldering/rework equipment, wrist straps, protective mats, footwear testers and system testers.


How do I ensure the best performance from my Hakko equipment?

Hakko equipment over the years has proven to be extremely reliable. Nonetheless, if you want to fully optimise peak performance of your equipment, there are few common-sense guidelines that should be followed:
Always maintain solder tips. The key to reducing incidences of oxidation is to keep the pre-set temperature of the soldering iron as low as possible to enable sufficient melting of the solder and the production of a satisfactory soldered joint.
Turn off the power at the switch when changing solder tips. Failure to do this can cause electrical arcing in the handset, which may compromise the life of the electrical contacts inside.
Unless using the soldering iron in a continuous work flow process, it is also advisable to switch the power off between applications to reduce the rate of oxidation.
Make a habit of covering the tip with new solder before placing the soldering iron into its holder during soldering work and ensure that the tip is covered with new solder at the end of a soldering task.
For De-Soldering units, ensure that the filters are changed on a regular basis. It is more cost effective to replace a low cost filter or filter pipe than a vacuum pump!
Keep soldering tips clean. Hakko can provide a number of cleaning aids to help prevent and remove oxidation from soldering iron tips.
Sustaining a daily maintenance regime in a clean, dry and well ventilated area will ensure that your Hakko equipment stays in tip top condition. For Soldering Stations, a periodic check of leak voltage, tip-to-ground resistance and tip temperature are advised. The reason for this is that even if the insulation resistance is measured, it will not show the safety of the device directly because the inside is insulated with a transformer. To prevent device damage and soldering failure, periodically perform these inspections either daily or weekly. Hakko's Soldering Iron Tester, FG-101, can measure leak voltage, tip-to-ground resistance and the tip temperature (insulation resistance cannot be measured).
We welcome feedback from our customers and potential new customers, so please do talk to one of our team if you have any questions. Look out for next month's Hakko Tech Tips where we will be providing more advice on how to get the best performance from your Hakko equipment.
For further information about Hakko, please visit www.hakko.co.uk.