FX8003 Nitrogen High Powered Soldering Iron for use with FX-801 heavy duty soldering station.
Note: Needs T33 Tips Purchased separately
Operating a Nitrogen Soldering Iron has many benefits over traditional Soldering Irons to improve productivity and extend the process window:
The Nitrogen has a Pre-heating effect on components resulting in faster flow of solder.
Soldering under Nitrogen prevents oxidisation
This aids the operation of the flux in cleaning the surfaces to be joined and opens/widens the process window and aids the flow of the solder thus offering a higher process yield, e.g. Reduced solder bridging, icicling and damage caused by excessive heat application.
Allows higher output and productivity
Traditionally Nitrogen systems have been costly to run, however with the Hakko Nitrogen Generator (FX-780) and flow Meter (FX-791) Hakko have transformed the workspace without the need for large external storage tanks or connection to external sources.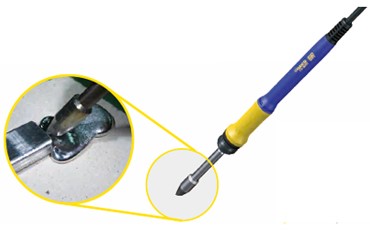 A wide variety of tip shapes
In addition to regular type tips, now slim type tips are added to the tip line-up to cover a wide range of applications. The composite tip, tip integrated with composite heater, makes tip replacement very easy.
Regular type
Best suited for components with high thermal mass such as transformers and coils.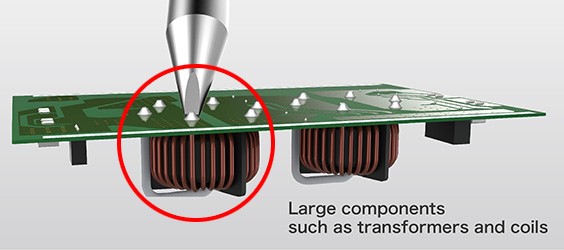 Slim type
Slimmed-down tips for narrow spaces without losing of enough power.

Slim type Shape-2.4SSD
By the tip design to make larger contact area with land pattern for better thermal transfer, it improves through hole fill and soldering on high thermal mass PWB.
Insufficient flow-up
Successful flow-up